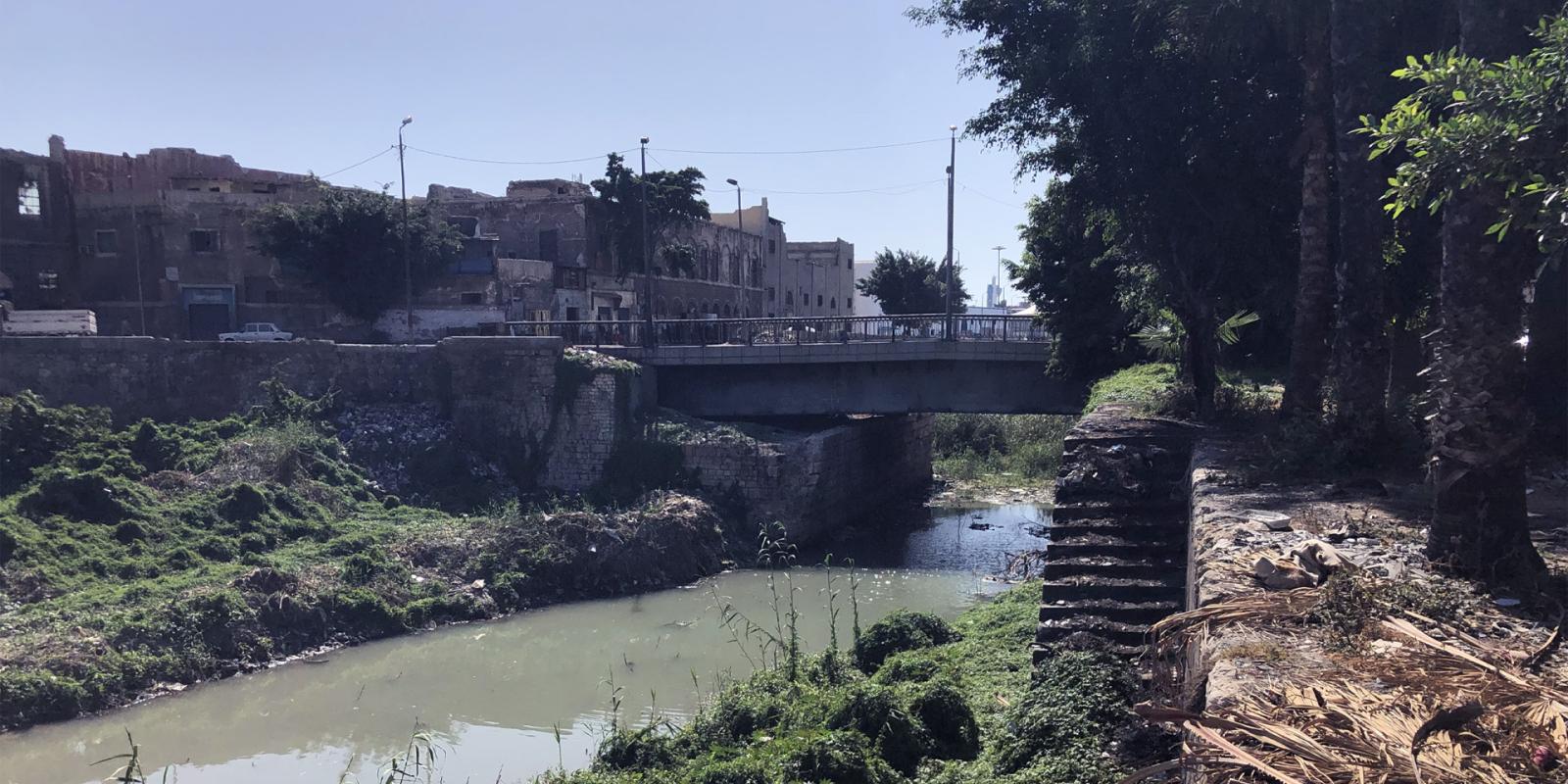 Presentation series
From Waterways to Axis - Unveiling Societal Ramifications: A Study on the Mahmoudieh Canal Transformation
The third River Cities Network (RCN) online presentation! Our Egyptian RCN colleagues will present their project focused on the Mahmoudieh canal in Alexandria. Find the zoom link to this event here.
Project Summary
In 2020, the state initiated a project to transform 21 km of the historic Mahmoudieh waterway into a highway, which is now known as the Mahmoudieh Axis. The newly transformed highway possesses a width of 80 to 120m, containing 6 to 8 lanes for vehicular traffic in each direction. This drastic change, however, led to a disconnect between the city port and the Nile River system. As such, sediment replenishment to the coastal port area ceased, resulting in an increased rate of coastal erosion around the harbor and a significant loss of the area's rich industrial heritage. Our research centers around understanding the societal impact of the Mahmoudieh Waterway Transformation. Our approach is to conduct a comprehensive social survey using qualitative and quantitative questionnaires and a series of semi-structured interviews. Based on the insights derived from this survey, we plan to develop two pilot projects that encapsulate the views of the stakeholders while taking into account pertinent academic and environmental concepts in city strategic planning. 
River Cities Network presentation series
The River Cities Network presentation series is an online platform for teams in the River Cities Network (RCN) to introduce their river-city case study projects to other members of the network and to an external audience. Teams have approximately 30 minutes to present their projects, after which there will be approximately 30 minutes for discussion. RCN teams that are interested to present can contact the RCN coordinators to sign up for a presentation slot.
The Presenters
Mohamed Gohar
He is an architect and researcher. His work primarily focuses on studying the historical origins of
urbanism and the architectural evolution of Mediterranean cities in connection to contemporary
socio-cultural context and social history. His architectural scope is design and intervention within
historic fabrics, with particular emphasis on the roots of traditional local architecture and its
connection to modern society. Gohar works between Alexandria and Marseille as an independent
cultural consultant for Mediterranean collaborations in academic and cultural institutions,
conducting field research, and designing, developing, and implementing urban heritage and
social strategy projects. This includes teaching courses about shared cultural heritage through
action-oriented educational programs.
Nancy Abdel-Moneim
She is the Associate Dean of, the College of Engineering & Technology, at the Arab Academy for
Science Technology and Maritime Transport, Smart Village Campus, and an Assistant Professor at
the Architecture Engineering and Environmental Design Department with more than twenty years
of academic and professional experience. She worked for four years for The Informal Settlement
Development Fund. Abdel-Moneim is interested in the process of resettlement projects and their
effect on dwellers' social and economic life quality. Also, she has experience in historic
conservation. She worked on many documentation and restoration projects all over Egypt.
Currently, she teaches and conducts research in human behavior and the built environment,
urban design, and urban environmental psychology within the use of AI. She has several
publications related to the enhancement of human being's quality of life within various contexts.
Asmaa Elhussiny
She is a general manager at the National Organization for Potable Water and Sanitary Drainage
(NOPWASD). She graduated as an engineer in 2008. She holds a Master's degree of Science in
Electrical Engineering from the Faculty of Engineering Menoufia University in 2018. Her research
focuses on using renewable energy resources, especially solar energy applications. In 2008, she
started working as an elect mechanical engineer at the (NOPWASD), responsible for supervising
the implementation of drinking water and sanitation projects, especially sewage plants in which
water is recycled and used with a tertiary treatment system. Asmaa is currently working on my
PhD in HVDC systems.